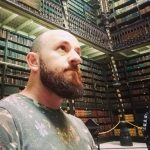 Professor and researcher at the Department of Informatics, Federal University of Paraná (UFPR), Curitiba, Brazil. Research areas: Human-Computer Interaction, Computer Science Education, Computing in Education. Interests: Human Values and Culture in technology design, Socially Aware Design, User eXperience, Computational Thinking, Gamification, Participatory Design, Active Learning in Computing Education.
Profiles:
Google Scholar
Researchgate
ORCID
Lattes (Portuguese only)
From 2015 to 2019, I have served as Associate Editor for the Brazilian Journal on Computers in Education, and as a member of the special Human Computer Interaction (IHC) committee in Brazil (2016-2021). Currently, I am working as:
Research Group: IHC Federal University of Paraná (UFPR)
Page on social media: https://www.facebook.com/ihc.ufpr/
Contact: rpereira inf ufpr br
Rua Cel. Francisco H. dos Santos, 100 Centro Politécnico, 81531-980 Curitiba, Paraná, Brazil
Department of Computer Science, Office room 87. Phone: +55 41 3361 3685
SELECTED OPEN ACCESS publications:
Partners
Federal University of Paraná, Centro Politécnico. Curitiba, Paraná, Brazil.