We provide the annotations of 1,300 sclera images manually labeled, being 1,000 from the MICHE-I database and 300 from the UBIRIS.v2 database.
The annotations were generated by labeling only the sclera region in each image (see our paper for more details). Some samples of these annotations can be seen below: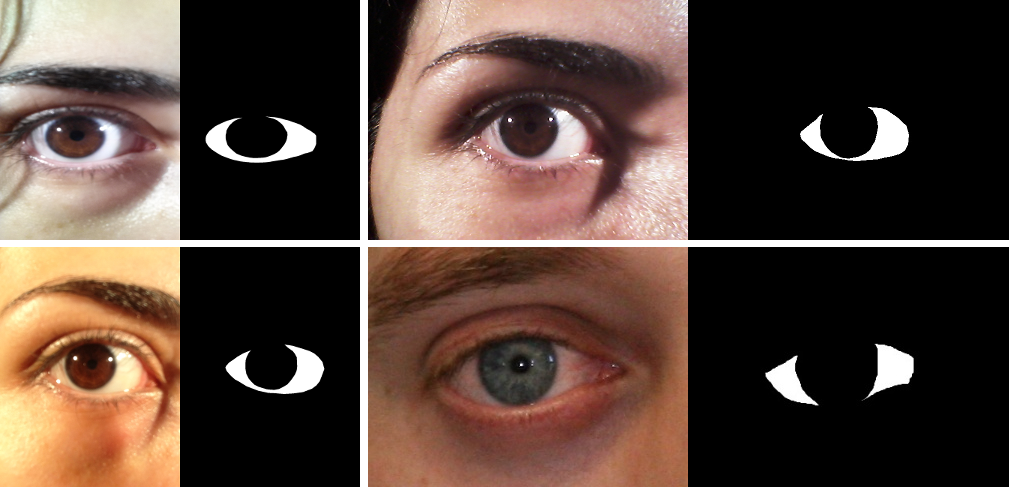 How to obtain the Annotations
The annotations are released for academic research only and are free to researchers from educational or research institutes for non-commercial purposes.
Please click here to download the annotations.
References
If you use the annotations in your research please cite our paper:
D. R. Lucio, R. Laroca, E. Severo, A. S. Britto Jr., D. Menotti, "Fully Convolutional Networks and Generative Adversarial Networks Applied to Sclera Segmentation," in IEEE International Conference on Biometrics Theory, Applications and Systems (BTAS), Oct 2018, pp. 1-7. [IEEE Xplore] [PDF] [BibTeX] [Presentation]
Contact
Please contact Diego R. Lucio (drlucio@inf.ufpr.br) for any questions or comments.