We provide 2,452 annotations (i.e., ground truth) from three well-known datasets:
CASIA-Iris-Thousand-v4 – 1,000 annotations, first 50 subjects;
Cross-Spectral Iris/Periocular – 1,000 annotations, first 124 subjects;
Mobile Iris Challenge Evaluation I – 452 annotations from random subjects.
We sought to eliminate all noise present in the iris, such as reflections and eyelashes.
The figure below provides some samples of these annotations.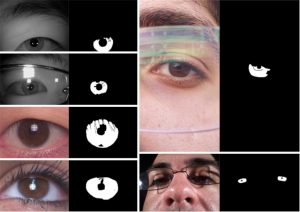 Remark that we only provide the masks/annotations, not the original images. However, we preserve the original names for equivalence purposes.
How to obtain the ground truth
The annotations are released for academic research only and are free to researchers from educational or research institutes for non-commercial purposes.
Please click here to download the annotations.
References
If you use the annotations in your research please cite our paper [accepted for presentation at the SIBGRAPI 2018]:
C. S. Bezerra, R. Laroca, D. R. Lucio, E. Severo, L. F. Oliveira, A. S. Britto Jr., D. Menotti, "Robust Iris Segmentation Based on Fully Convolutional Networks and Generative Adversarial Networks," in Conference on Graphics, Patterns and Images (SIBGRAPI), Oct 2018, pp. 281-288. [IEEE Xplore] [PDF] [BibTeX] [Presentation]
Contact
Please contact Cides S. Bezerra (cides.bezerra@gmail.com) for any questions or comments.